Teething
A baby's first tooth usually erupts at about six months of age; however, this can occur as early as birth or as late as your child's first birthday with most children having a full set of teeth by their 2nd or 3rd birthday.
Many babies experience some discomfort during teething and are often irritable when new teeth break through their gums.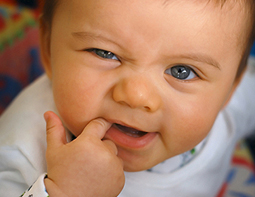 Signs and symptoms of teething can include:
Frequent crying and crankiness
A mild fever
Reddened cheeks and drooling
Loss of or reduced appetite
Mild diarrhoea
Sucking or gnawing on toys
Pulling the ear on the same side as the erupting tooth
However, it's important to remember teething should not cause severe illness. If your child has a fever or diarrhoea, see your doctor.
Relief for teething babies
The pressure on the gums from chewing something can sometimes provide temporary relief from the pain of teething, you could try:
Refrigerating a teething ring (always follow the manufacturer's instructions).
Try rubbing your child's gums gently with a clean finger.
A dummy or pacifier may also help.
Paracetamol – such as Dymadon for babies – can help to temporarily relieve pain or fever associated with teething. Always read the label to ensure you give your child the right dose.
Ask for Dymadon paracetamol at your pharmacy.