What is the Active Ingredient?
The active ingredient is paracetamol 50mg (in each mL)
Warnings
Do not use in children under 1 month.
Children: keep to the recommended dose.
Do not give this medicine for longer than 48 hours at a time unless advised by a doctor.
Do not give with other products containing paracetamol, unless advised to do so by a doctor or pharmacist.
Do not use if cap seal is broken or missing. Tighten cap after use to engage child-resistant closure.
While using this product:
If an overdose is taken or suspected, ring the Poisons Information Centre (Australia 13 11 26) or go to the hospital straight away even if they or you feel well because of the risk of delayed, serious liver damage.
Contains benzoates, hydroxybenzoates, saccharin and sorbitol ( 5g in 14.4mL). Products containing sorbitol may have a laxative effect or cause diarrhoea.
What are the Directions for Use?
Shake bottle before use.
You can mix Dymadon for Babies in water or fruit juice if necessary.
Recommended paracetamol for babies dosage based on 15mg of paracetamol per kg of body weight.
Dose should be given every 4–6 hours as required. Do not give more than 4 doses in 24 hours.
Always wash the dosing syringe in warm soapy water, rinse thoroughly and allow to air dry after each use.
See Dymadon's dosage guidelines
Other Information:
Store below 25°C and protect from light.
Dymadon for Babies is aspirin free, sugar free and available in colour-free orange and strawberry flavours.
How to use the dosing device
In order to get the correct paracetamol dosage for children and babies, use the dosing device that comes with your Dymadon for Kids or Dymadon for Babies pack:
1. Insert dosing device into the plug (the plunger should be fully depressed)
2. Invert the bottle and slowly pull back the plunger until it reads the correct dose for your child as per the dosage instructions on the pack OR click here to read the dosage instructions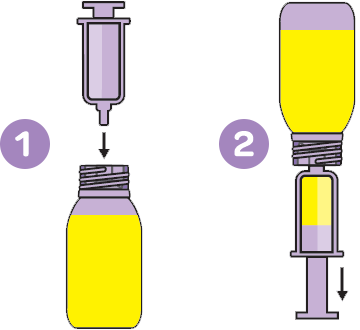 Helpful tips for giving children and babies medicines:
Always use an accurate measuring device such as an oral syringe – teaspoons are not accurate and may hold different amounts.
Always read dosages and measurements from the pack each time – especially when giving medicine to kids that contains. paracetamol. Some medicines look similar but may have different strengths and therefore different dosage quantities required.
When possible, use the dosage that corresponds with the current weight of your child. If you do not know their weight, the age-related dose can be used.
Don't squirt the medicine in the back of the throat, as this could choke your child. Instead, slowly squirt the medicine between your child's tongue and their cheek, giving them time to swallow between each squirt.
It is not recommended to add medications to infant formula or feeding bottles because of the risk of the child not taking the full dose. If you must add medication to a drink, make sure the child drinks it all.
Always check with your pharmacist to see if the medication for your baby or child is able to be mixed with a drink – some medications should not be mixed with juice or milk. This will sometimes, but not always, be mentioned on the packaging so check there first.